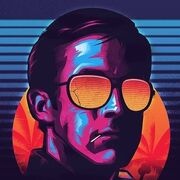 Welcome to Kirby20056's fandom profile! This is where we talk about him and the contributions he did while he was hanging around in Fear League Squad (FLSQ)

Kirby20056 was a user who joined on July 18, 2017. Currently well known by the mods and some of the members and is in-fact a moderator (Squadinate Major) of the FLSQ Discord Server. He was known back then as : к ι я в уツ ( 2017 - 2018 ) Kirby1001 ( 2018 - 2019 ) and know he's currently known as Kirby20056 ( 2019 - ? ) He was very active around 2018, but when it was July 2019, he became less and less active due to student works.
Kirby20056 asked for the moderator role out of the blue around late 2018 to early 2019, he did get it, after that he went on with his studies and if he did had free time, he would monitor the server.
---
Things we know about Kirby20056:

'"He a nice boi" -ItzSmileyz#8004 ; 'close irl friend of his.

Traits about Kirby20056:
He's a gamer but an introvert, when you get to know him he's pretty much a loudmouth,  but he's also a nice dude. 

Interests :
Videogames
Socializing people whom he personally knows a lot
Playing Multiplayer games only if he plays with his friends
Table tennis
Cycling
Sinigang, paksiw ( filipino food )
Dislikes : 
Socializing people who he doesn't know
Videogame lag (fps or ping spike, it angers the heck out of him)

Links:
YouTube Channel ​​​
Community content is available under
CC-BY-SA
unless otherwise noted.